'A Little Bit Me': First Impressions of a Brit Abroad at the Belgrade 2022 EuroPride!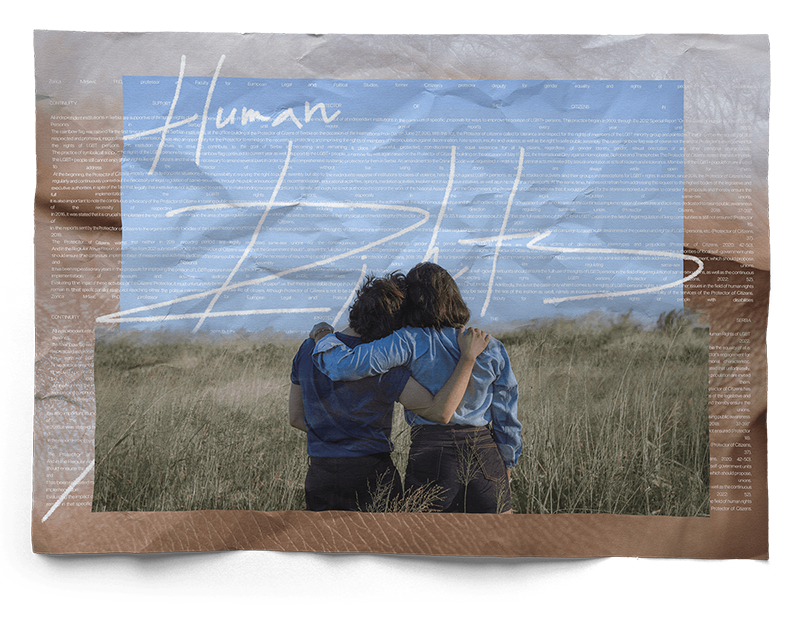 I had my nose to the grindstone, filling out a funding application to support research on disability rights in South Eastern Europe and remember feeling a little annoyed that it was hard to concentrate with the noise from whatever was going on outside. It was a noise that reminded me of the Calanda procession that Luis Buñuel writes about in his autobiography and that informed the soundtracks of several of his films.

Insistent drumming. The rhythms and convictions of beliefs stretching back centuries. I was staying in the centre of Belgrade. The sunshine made me want to go outside and explore the park at Avala or to walk along the Danube to Zemun. But I had to concentrate on the paperwork and didn't even have time to get up and look out the window at what was happening across the street.

When the paperwork was done I looked online and discovered that what I had been hearing was a protest against EuroPride 2022, to be held in Belgrade, in September. In clips of the protest on YouTube I saw people holding icons and crucifixes and looking very angry about the prospect of LGBTQI people marching in Belgrade, in the first EuroPride event to be held outside the EU. The protest wasn't against me, specifically, but it was against people like me. It made me feel like Dracula. Would I vanish in a puff of smoke if sufficient icons and crosses were waved in front of me?

Just a couple of weeks before this I took shelter at the St George Rotunda in Sofia, from the wildest electrical storm I've ever seen. The cantors at the church gave those of us seeking shelter there wine, cherries, and tiger nuts and let us stay until the storm had passed. It was a very moving gesture of kindness to strangers. Could this be the same tradition that wants me, and others like me, to be invisible?

With the paperwork done I was free to explore Belgrade and chanced upon the Pride Information Centre on Kralja Milana street. I went inside and studied the wall panels where the history of LGBT activism in Serbia is charted. In my four years as the LGBT representative of the UK's University and College Union's I spoke out several times at the national congress in defense of the rights of LGBT people in Russia and Eastern Europe. The international dimension of the union's work really mattered to me as well as the sense that human rights for LGBT people will be a work in progress until we have meaningful rights, everywhere. When the chap who was minding the store told me that it was all good now with regard to Pride in Belgrade, I was a little surprised. And there was some cognitive dissonance: 'OK: I've got it wrong', I thought, but then, what is the security guy doing here, sitting in the corner?

I looked up EuroPride 2022 after this chance encounter with the Pride Information Centre and sent in a volunteer application form. Framing union policy is one thing: maybe I could contribute to the struggle in another modest way by taking part in EuroPride 2022.

So, here I am, in Belgrade, a city that feels alternately edgy and scary to me. A place where the suffering inflicted on a people by politics is still palpable and the damage done by NATO's bombs is still very much in evidence.

And the damage extends into the most intimate dimensions of human health and happiness, as I discovered from watching the premiere of Aleksandar Nikolić's We Fight On, at the Yugoslav Film Archive. One of the film's interviewees mentions, almost in passing, that access to HIV and AIDS therapies was impacted by the economic embargoes and sanctions that Serbia experienced. People with HIV had to source drugs from third countries, at huge cost, with no guarantee that they could recoup those costs. I thought this was something confined to the history books, to the 1950s in Spain, for example, when antibiotics in short supply were smuggled across the border from Gibraltar. Or to post-war Vienna when the black market in penicillin informed Graham Greene's writing of the script for The Third Man. It was a jolt to realise that this was something happening in living memory, in Europe. Not that far away,

The film was striking for the courage of the man living with HIV for the last 17 years who talked openly about his experience; and for his reticence about gendering his life partner (so far as one could tell from the English subtitles, at least). The discretion of the trans women who talked with their backs turned to the camera speaks volumes about the persistence of prejudice. One of them spoke movingly about finding a source of support in a trusted life partner. This wasn't a story about defeat or about sorrow so much as it was one about resilience and survival. Nikolić filmed the testimonials of the HIV+ people who took part in his film against the backdrop of a rural arcadia, 30 miles south of Belgrade, taking them out of metropolitan and clinical spaces, humanising them as a life force.

Still pondering the lessons of We Fight On, I arrived back at Pride House on Tuesday in time to discover that the march, scheduled for the 17th of September, had been well and truly banned by the police. I thought back to the conversation I'd had in August at the Pride Information Centre. Who was right? Me, with my jaded impression of a homo-bi-trans-phobic culture in in Eastern Europe, or the volunteer who told me it was all good now? No matter: the march had been officially, properly, totally, and definitively banned. The dignitaries were due to arrive and give their speeches for the opening of EuroPride 2022. I was curious to hear what they would say in the Arkadia theatre, named for Serbia's first LGBT advocacy movement.

The Serbian Prime Minister designate, Ana Brnabić, was given quite a reception. There were chants, flag waving, a lot of noise, and a lot of heckling. Ana Brnabić pressed on with what she had to say and retained her composure. There were good bits, and bad bits, in what she had to say, in my humble opinion, as an outsider, and as someone who is relatively ignorant about Serbian party politics.

Ana Brnabić acknowledged the human rights deficit facing LGBTQI people in Serbia, where there is no marriage equality, no pensions equality, no inheritance equality, no adoption equality. She spoke from a first person position and challenged dissenters to do as much as she has done in moving the agenda forward by a metre:

I'm probably the only person in this country who has been discriminated against by [the] LGBTI community but also [by] those who are discriminating [against] you. Because I'm also part of the LGBTI community. I'm also the first politician in this country, and in this region, who wasn't afraid, or ashamed, to be LGBTI. We [all] know that there [have] been many politicians in Serbia who are gay, right? All of them ashamed to say 'I am Gay.' I was never ashamed. That is my fight. And perhaps, and obviously, you don't like it.

My impression was that what those protesting Ana Brnabić's speech wanted to hear was support for the EuroPride march, some critique of the seemingly arbitrary cancellation and of the double standards which say that an anti-gay pride, remarked upon by President Vučić for its impressive scale, could go ahead safely while a march by LGBTQI people and our allies is simply too dangerous. Instead, the PM designate seemed to defend the ban, albeit guardedly, and indirectly:

The duty of all of us as citizens is to understand each other's needs. To respect others' voices. It is the duty of government and the state to protect the rights of all the people. Along with solidarity and empathy, tolerance is a value that we must nurture.

In other words, the ban is for your own good, and if you want to be good citizens, you should show a little more consideration for the homo-bi-transphobes. In my humble estimation, this is problematic because that discrimination comes with real threats of violence. And tolerance is not the same as acceptance. Appealing for tolerance, and not of us but of those who hate us, furthermore, not only lags behind the LGBTQI agenda but seems to justify, if not to celebrate, victimization and scapegoating.

The PM designate situated the LGBTQI campaign within Serbia's centuries old struggle for its own values and self-determination: 'I will never accept the interpretation that the LGBTO community defies the values and traditions of our society,' she said. Brnabić's contention that 'This EuroPride in Serbia, in Belgrade […] is a cultural and geographical shift of the border of freedom and rights for the LGBTQI population' and that 'today and this week, Belgrade and Serbia are paving the way to freedom' would have seemed a little more coherent and convincing had the march on the 17th not been banned some hours before she spoke.

The auditorium became calmer following the PM designate's intervention. Her words were followed by contributions from diplomats representing Sweden, Norway, France, the Netherlands, the USA, and Canada, as well as several UN and EU bodies. Almost all of them repeated one of the key talking points, that EuroPride In Belgrade and Serbia represents a step change since this is the first such event outside the borders of the EU, and the first such event in South Eastern Europe.

The Norwegian ambassador's intervention was a reminder that the potential dangers around Pride events know no political or geographical boundaries: it was in one of Europe's most progressive countries, earlier his year, that people were murdered and injured in the run up to Pride in what Norwegian police termed an act of 'Islamist terror'.

For this listener, the intervention by the Dutch chargée d'affaires, concise and carefully crafted, was the most impactful of all the speeches that opened EuroPride 2022.

Although she referred selectively to homo-phobia, and not to biphobia and transphobia, the representative of the Dutch embassy said what needed to be said while also noting that the critique one can make of inadequate LGBTQI rights in Serbia has a wider relevance and application:

Regardless of the outcome of the march, in some sense the damage is already done. EuroPride was supposed to work as a lever to give the equal rights agenda in Serbia a push, and to create more space. And yet we found ourselves having to defend that space. The discourse moved away from the core of the matter: human rights. Human rights are non negotiable. Either you are free, or you are not. There's no in between. Either you're allowed to be you, or you're not. Because there's no such thing as a little bit you. Let us not forget that we're talking about people. Our people. Us. And that loving, and being loved, is a human need. Over the past few weeks we've seen a lot of hate speech. Sometimes it seems as if the hate was given more space than the people advocating for their constitutional rights. Words matter. And can hurt. But so does silence.

For this listener, the words of the chargée d'affaires carried more weight than some of the other interventions for this honest recognition that anti-gay-anti-bi-anti-trans prejudice and discrimination, at the most fundamental level, are still present and by no means confined to Serbia:

Here, and in my own country, we still need to work on getting the facts straight. LGBTQI people do not want special rights. But the same rights. Homosexuality is not a choice There are no cures, because there is no illness. Same sex parents are not harmful to a child. And sexual attraction to children is not homosexuality. It is called pedophilia. The message [the organizers of EuroPride in Serbia] are sending is loud and clear: the years of shame and hiding are behind us. It is time, It is overdue, and there is no way back.

At the reception following the speeches by the dignitaries, I talked to another delegate, from the Netherlands. Despite the fact that he was younger than me our experiences of bullying and discrimination turned out to be very similar. If the narrative of progress regarding LGBTQI rights and quality were as straightforward as it is sometimes made out to be, this shouldn't be the case.

All the speakers who were at the opening event in person, apart from Ana Brnabić, referred to the Pride March on 17th September, expressing optimism that it would happen, and that it would be a success.

One can feel a certain amount of empathy for politicians faced with the difficult task of reconciling very different agendas. On the other hand, that's what they're meant to be good at doing. Deferring action to improve the rights of LGBTQI people means effectively, that we, as LGBTQI people, have to live our lives as a game of catch up. That can be immiserating, 'The time is now' might be a slogan but it says something very important too about being able to try to live one's life in the present, as non-LGBTQI people do. That's essential for equality.

Some final thoughts: the entirety of the proceedings of the opening event, heckling aside, were in English. (Ana Brnabić apologized for speaking English). There were, however, no speakers from the UK. Perhaps this reflects the UK's new pariah status, outside the EU (and, seemingly, Europe). Or perhaps no one from the UK was invited, or, if they were, couldn't make it?

If someone needs PEP in Serbia, and they're not covered by insurance, the cost for prophylactic combination therapy reaches nearly 1 million dinars. That's a reminder that despite the narrative about cheap generic drugs and ease of access to antiretroviral treatment, the situation is by no means ideal. Not in Serbia. Not anywhere.
Ryan Prout
Volunteer
EuroPride Belgrade 2022
14-ix-2022